Baseball: Alessandro Volpe, the "Azzurri" dream is now closer
TORONTO – Commitment and hard work can pay off. Alessandro Volpe, a baseball player who celebrated his 17th birthday a month ago, who for years has been training every day, for hours, with self-denial and a spirit of sacrifice, is well aware of this. "Every single day since 2015. #NoDaysOff", as the young Italian Canadian himself wrote on his Twitter profile just over a year ago. He had posted a video of a workout, which went viral, reaching 18,500 views. 
Today, Alessandro collects the first fruits of that commitment since he was just 10 years old: he is in fact among the 33 called up for the "try-out" for the Italian Under 18 Baseball National Team. Clear on the horizon are the European Championships in August and the World Championships scheduled in September.
It would be doubly satisfying, in fact, since in addition to appearing on the "squad", Alessandro is also the only non-Italian born player at this point. But azzurri blood runs in his veins: he is the son of Flavio Volpe, President of the Automotive Parts Manufacturers' Association (APMA Canada) and grandson of the Hon. Joe Volpe, editor of Corriere Canadese.
Gianmarco Faraone, National Team and Coaching Staff Coordinator of the Italian Baseball and Softball Federation, who recently completed a two-year period as a mental performance coach in China is working alongside Mike Piazza, former MLB star and current manager of the Italian national team, and his staff. To make the U-18 competitive.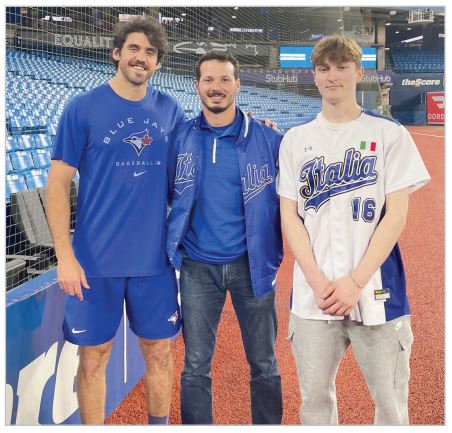 Faraone, an Italian Canadian like Alessandro and with a "base" in Toronto, saw the young man play and was impressed by his skills, to the point of recommending him for the "call-up" by the Azzurri for the upcoming tournaments.
So, on Easter Sunday, Alessandro will leave for Italy to participate in the "try-outs" that will take place in Riccione, near Bologna (Emilia Romagna). The young hitter will be run through a series of training sessions and live skills assessments with the other 32 aspiring players. They will also play a couple of games to apply those skills live. At the end, 18 of the 33 players will be selected to be part of the team that will participate in the European Championships and, later, in the World Cup.
Yesterday, a few days before his departure, we interviewed Alessandro to get to know him better and to introduce him to the readers of Corriere Canadese.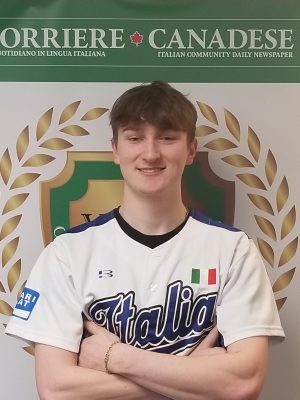 Alessandro, when did your passion for baseball start?
"When I was 8 years old. For a couple of years, I enjoyed it as a simple game. Just to have fun. Then, at 10, I started taking it more seriously and I began training every day, without exception, for two hours a day. And I have never stopped ".
What do you expect from this adventure in Italy?
"I hope to be selected to the national team. It would be important, because it would allow me to get noticed internationally, for at least two years, up to the age of 19 ". Coaches and scouts from all over the world will be present at the European Championships and then at the World Cup.
And then? What is your dream?
"To play in MLB (Major League Baseball), maybe with the Los Angeles Dodgers or the Blue Jays in Toronto. That would be my ultimate goal."
And in the meantime?
"In the meantime, I hope to join the Italian national team. I want to continue my studies at the University level and to continue my training in baseball. As an aspiring player from Canada, this university level competition will allow me to hone my skills in a very competitive environment. Playing with the Azzurri at any level would provide experience and exposure.
The way is clear. Alessandro now has no choice but to follow it with the same commitment he has made to this point. He does not lack willpower. He needs to showcase his talent. Auguri!