Another School Board loses sight of its obligations
TORONTO – York Catholic District School Board (YCDSB) appears on track to claim the prize as the publicly funded [Catholic] institution most confused about its role in the development of our society. There are other contenders… but… 
In the interests of data-driven decisions, the YCDSB has been experiencing declining enrolment since 2019-2020. Currently it accommodates 48,915 students at all grades and levels. According to Ministry of education reports that is 6.3% less than the 52,178 it served in 2019-2020. On a provincial basis, the government allocates $13,125 in Grants for Student Needs (GSN). YCDSB receives $12,895 by comparison: for every student the "managers", the daily operational managers – the Director and his team of Supervisory Officers – are losing $11,250,450 in base GSN annually.
That really means they are depriving our children of funds to improve their educational performance. It is a legitimate question if parents ask, "who is running the shop?" For example, the managers (numbers as per Ministry documents) project the expenditure of $20,522,848 for student transportation – a $1.4 million increase over the last academic year.
Keep in mind that it is about the money! The YCDSB is competing with its non-Catholic co-terminus school board for students and their GSN.
The Agenda for tonight's Board meeting, appearing almost out of nowhere – even though the managers had been preparing for months – appears to be about "justifying" to parents the reasons why some of their children will be separated from friends and family to attend schools as far as five kilometers from their home. At 322 pages, the agenda document has all the manifestation of "an information dump", a classic bureaucratic tactic of obfuscation at its worst.
There were two other agenda items scheduled for a special board meeting on October 26, last Thursday, at 4:00pm. – cancelled at the last minute. The first of those was supposed to be about the eleven-page letter received from trustee McNicol in response to the Board of Trustees sanctions imposed on her for, among other reasons, discrimination against some of her colleagues for their ethnic background – read Italian.
An objective, non-aligned, investigator (JMJ) on the Boards direction had conducted a thorough investigation to inform the Board prior to any decision. Two trustees (Cotton and Crowe) supported by the two trustees in Woodbridge (Wigston, and another with an Italian last name, Grella) voted not to apply the sanctions that flowed from the findings. McNicol's lawyer had submitted an objecting letter (read it inside this article: Theresa McNicol defies York Catholic School Board) posted on YCDSB website. The decision had been taken and as per existing legislation such Board decisions can only be reversed by appeal to Divisional Court for judicial Review.
For reasons only available to those participating in the "behind closed doors, in camera" meeting preceding the now cancelled meeting, trustees "stayed" their sanctions pending a meeting to hear McNicol's lawyer position. One surmises that some types of discrimination must be ok.
Meanwhile, as reported in a report by Sue Ann levy via X, previously known as Twitter, York Region has hired Kike OJO Thompson to provide seminars on discrimination and the effects of elitism on the marginalized. She and her firm are subject to an investigation into the cause and effect relations ship associated with the suicide of one of her seminar participants (see our coverage on line).
As to the transportation/bussing issue and reconfigured boundaries, the managers seem to have decided that Trustees should have no say. They say this falls in the realm of "daily operations authorities" vested in the Director. Given the location of the school communities most affected, count on McNicol's allies to vote "punishingly" on the trustees whose duty it is to help those families affected.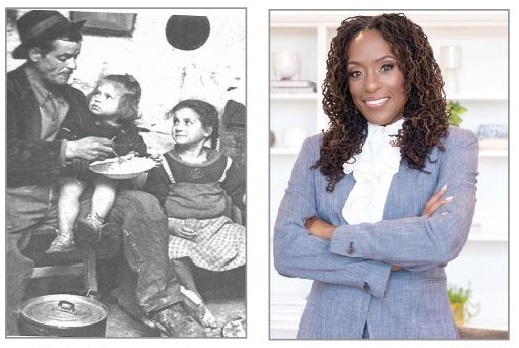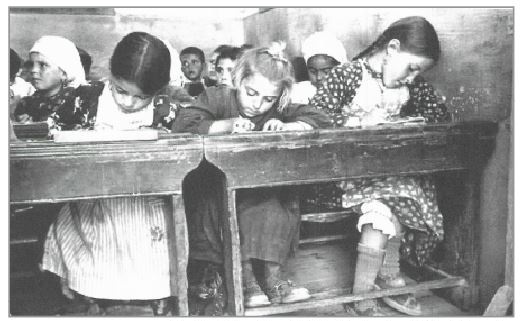 Above, photos of Italian children who emigrated to North America (credit "La Merica" by Antonio De Vitto) and Kike OJO Thompson (photo Kojo Institute)