"The Marian Shrine is a heritage site": Perruzza presents the motion at City Hall
TORONTO – It no longer just a community issue: the political class is also working to save the Marian Shrine "Marian Shrine of Gratitude". In the last several weeks, we have reported the multiple on-site supporting presences of Councillor Anthony Perruzza and MPP Tom Racekovic who also sent a letter to the Heritage Minister Michael Ford. We also noted the unanimous TCDSB Motion of support. 
Yesterday, Councillor Anthony Perruzza, seconded by James Pasternak, filed a motion seeking to have the land on which the Shrine stands declared a heritage site under the Ontario Heritage Act.
Any designation would protect the buildings at 3100 Weston Road, in Toronto, from eventual demolition. Perruzza's is the first formal step in this direction: the motion aims to cut time and guarantee the issue a preferential lane for discussion in the City Council.
City Council is requesting the Chief Planner and the Executive Director, City Planning, to evaluate a property listed in the Heritage Register, at 3100 Weston Road, for designation under Part IV of the Ontario Heritage Act. , and report to the Toronto Preservation Board and the Planning and Housing Committee.
"The property – he continues – at 3100 Weston Road includes the Carmine Stefano Community Centre, formerly Saint Basil-The-Great College School, the Rivermede house and the Marian Shrine of Gratitude, as well as a car park and several soccer fields, all located in steps away from the banks of the Humber River. The Rivermede house, built in 1928, served as the Gardiner family's quaint summer home. In 1961 the Basilian Fathers purchased the property and built Saint Basil-The-Great College School, also with sports fields and a swimming pool, previously used by those visiting the Rivermede estate. In the following years, the pool was filled in to create the Marian Shrine of Gratitude, a unique place for prayer, reflection and healing. It has touched the lives of thousands of Torontonians for nearly two decades.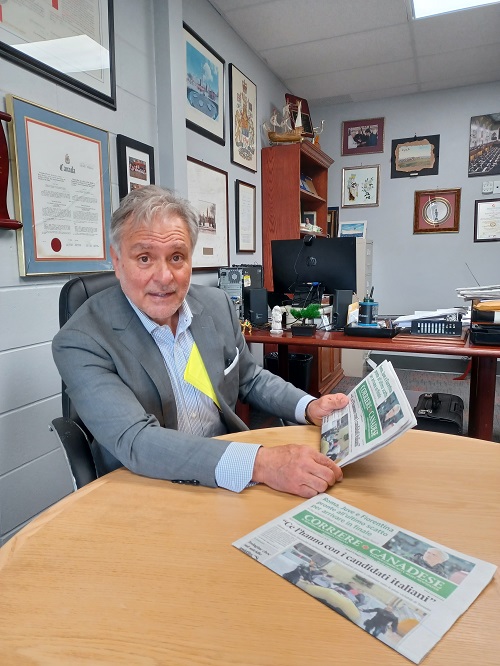 In 1998 the high school was relocated nearby and the former school has since been leased by the City of Toronto for the Carmine Stefano Community Center. This site has been the center of the community for over 80 years, as a respite from city life, a place for spiritual and educational growth, and for recreation. With this motion I ask the staff to consider the immense heritage value of all aspects of the property at 3100 Weston Road".
The community is being encouraged to email its support. When you click on MM10.5,  you will see a tab (on the top)  that says "Submit Comments": click that, write your comments in the body and simply send the email.
ITALIAN VERSION: "Il Santuario Mariano è un sito-patrimonio": Anthony Perruzza presenta la mozione a City Hall