Toronto mayoral by-election, Corriere Canadese interviews Brad Bradford: "I will follow up on promises with facts"
Today, Corriere Canadese is publishing another interview on the contending candidates seeking election as Mayor of Toronto. 102 individuals have registered with the Elections Office at City Hall, and the Italian newspaper will not be able to give all of them the coverage they might like, so it proposes, but will not be limited to, interviewing interested candidates whom "the polls" suggest may garner at least 4% of the votes.
TORONTO – "Facts, not words". Brad Bradford's commitment is captured in this motto. An urban planner, he has represented Ward 19 Beaches – East York at City Hall since 2018. He has been Chair of the Planning and Housing committee since last year. Mr. Bradford is aiming for the mayor's seat in the belief that streamlining bureaucracy and having promises follow through on actions quickly is the direction to take for a Toronto that works. And, in his platform, there is a plan to increase public safety in the Toronto Transit Commission (TTC); a new agency to respond to mental health crises; a commissioner for the reduction of traffic congestion in the city; a plan to fight crime and to build affordable housing. Bradford, interviewed by the editorial staff of Corriere Canadese, outlined his program's priorities.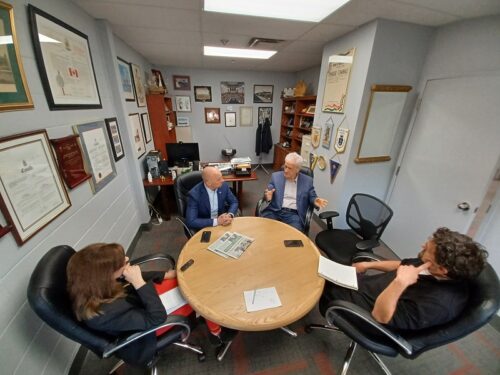 Speaking of priorities, what does he plan to do in the first hundred days as mayor? "Affordable housing and making communities safer. I will be an enterprising, resolute mayor, I will waste no time implementing needed changes for Toronto residents. The cost of rents and mortgages are skyrocketing, like never before. There is a huge gap between supply and demand. Bureaucracy holds back the possibility of having more housing for more people. I will streamline the process, unlock public lands and make sure more homes are made available as fast as possible. On the other side are property taxes. I notice among the other candidates in this election a lack of transparency, of honesty about how they are going to pay for all the promises they are making. I think with Olivia Chow, residents can prepare for the double-digit property tax increase, life will become more expensive, people simply can't afford it. Mortgage interest rates are up, rents are through the roof. I am committed to keeping home taxes at the rate of inflation. We've got to move forward with the construction projects, with the tenders here in the city, we've got to open it up to more workers, create more jobs, more competition, and that's going to save us hundreds of millions of dollars a year. My estimate is $200 million a year but according to yesterday's report from Cardus we could end up saving $347 million a year that we can invest in the TTC and other major services. There is no honesty towards citizens in not pointing out where the money will come from for the promises made. Olivia Chow could raise property taxes by up to 20% and residents can't afford that. In addition to affordable housing, I will focus on safety."
What are you going to do to make Toronto's public transportation system safer? "From day one in the office, I will be committed to improving security on the TTC. First, I'm going to go ahead with platform edge doors in our five busiest tube stations. We've talked about this for over a decade and haven't done anything about it because it's expensive and we have over 70 metro stations in the system; but we'll just start with the busiest ones. I take the TTC almost every day and read the fear on people's faces, everyone is backed against the wall because there may be a chance you will end up on the tracks. I will bring special constables and additional police officers to stations that have problems. This will encourage people go back to using public transport, to feel safe. But I recognize that this is not the only answer. There are more than 20 different social agencies providing mental health, drug-addicted and homeless support, and none of it is coordinated. I will set up an agency to coordinate all social services so people can get help when and where they need it. Finally, cell service was a terrible deal over a decade ago. I will make sure that regardless of the operator, everyone will have access to telephone service for safety but also because it is important for people".
Traffic in Toronto is chaotic; downtown is a real nightmare. What are you going to do to alleviate traffic problems on the roads? "There has been such a disconnect with City Hall in acknowledging the issues facing citizens. The thing is, it seems like the politicians and City Hall are raising the white flag – they've given up. It seems like everyone is just saying 'hey, that's the price you pay for living in a big city, accept it'. There is a lot of traffic, and we have the unenviable statistic of being the slowest return-to-office city in North America. What's the number one reason people aren't going back to work? An hour and a half to get there and an hour and a half to get home means staying a lot of time away from your family. It's time we took traffic jams seriously and stopped ignoring them; so, I'm going to hire a congestion relief commissioner from day one. This person's only job will be to give a coordinated and thoughtful response to all congestion management issues and traffic in the city. I will also redeploy 200 parking enforcement officers during rush hour at our 50 busiest intersections, half of which will be in the suburbs, to keep traffic flowing because there is nothing more frustrating than standing at a green light because there is a car that blocks traffic. It will be about using agents to circulate traffic rather than issuing fines and this is a plan that is already part of our resources. It's not new, it's just about making better use of people's time to get better results for the city. Furthermore, as far as infrastructural projects are concerned, I will speed up the work on the Gardiner. There is absolute chaos over there, we can complete that project at least two years earlier while also saving money which can be invested, for example, in cheaper housing".
Let's talk about cycle paths, often the subject of conflicting opinions. What is your opinion on this? "There are some bike lanes in the city that I think work really well, and some that don't. No one in the world points to Toronto as an example for bike lanes. I don't think we've done a particularly good job. Given the challenges, especially with the construction work we're facing right now, it makes sense to look at the ones that aren't working and see how we can improve them. Take for example Richmond and Adelaide, which by the way Saunders wants to eliminate, these are the only east/west roads in the city that work well. The problem with Richmond and Adelaide right now, is that we're spending $40 million to put the Queen Street tram tracks – which is closed for construction of the Ontario Line – on Richmond and Adelaide. My plan is to have a fast transit corridor on King Street. We've already made the changes to make transportation a priority, introducing more streetcars on the only streets that actually run downtown, so this is a common-sense approach that will save $40 million that we can use for other priorities."
How do you plan to restore financial stability to City Hall? "Our budget has skyrocketed; it's increased by $3.5 billion in four years. Since 2018, the four years that I served as a director, I believe our annual operating budget was about $13 billion. Many things have changed; we had a pandemic but now it's over. Our two biggest cost drivers are shelters and transportation subsidies, we spend over $1 billion annually subsidizing the TTC. It should be noted that two-thirds of TTC's revenue comes from user fees, and there is no other system in North America that has such a high level of fee-driven operating costs. Since the number of travelers has gone down, we have faced a huge gap to make sure the trains keep running on time and so we have the service we need but we don't have the revenue arriving because there are no passengers. I will lobby the provincial and federal governments to inject money into transportation, something they haven't done in decades. We cannot bear the brunt of all the decisions of other governments, whether it is immigration grants, refugees or anything else. In terms of fiscal management, I estimate $200 million a year, which number comes from looking at savings in Hamilton, Peel Region, Waterloo Region. There are plenty of opportunities to do better."
How do you plan to control the increase in crime in the city? "Crimes are on the rise; car theft is on the rise. The reality is, when we had Mayor David Miller in 2003, we had 700 more frontline officers than we have today. But now the city's population has gone up by the millions, so the ratio of cops to population is moving in the wrong direction. We have fewer policemen than Montreal and Vancouver, London, and certainly the largest cities in the United States. And let's not forget that there are over 1500 violent offenders on bail in the city of Toronto right now that no one is checking. Inflationary increases in the police budget effectively mean that officers are not replaced when they retire. In this year's budget I advocated for a $48 million increase to the police budget to add more frontline officers, but this is the first step toward additional investment to close the gap, we need it. But this is also to say that the police need to change; community safety needs to improve. The 40% of calls answered by agents probably should be handled by someone else who has more specific training for that type of call. We have organized city-wide programs with mobile crisis response teams, which also alleviates the pressure on police officers who can then concentrate on their work on the front lines. We need more investment in policing, additional investment and other services that help address mental health and drug use issues."
In your opinion, was John Tory a good mayor? "I worked closely with Tory, I think he really brought the whole city together coming out of Rob Ford's leadership, he brought stability to Toronto. People have really appreciated his service, the way he has built consensus".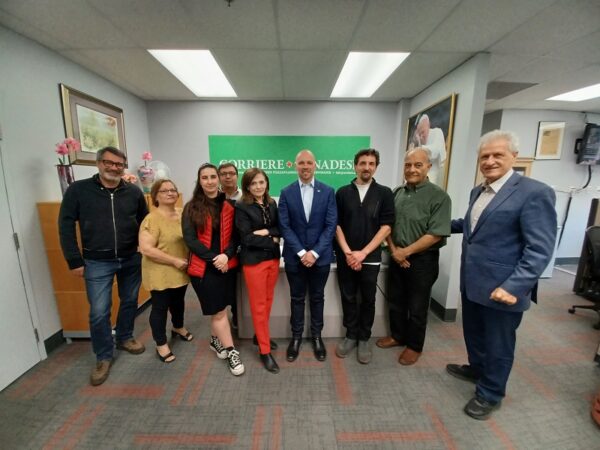 In the pics above, Brad Bradford during the editorial board with Corriere Canadese; here he is with the publisher Joe Volpe and the staff of Corriere Canadese and Correio Canadiano 
(interview in collaboration with Francesco Veronesi and Marzio Pelù)