Mayoralty debate winner: The Decline of Toronto
TORONTO – Congratulations to CP-24 for convincing their viewers to hang around for two- and one-half hours of "debate". They should fire the "experts" they claim to have used in structuring the debate format. 
It was probably an overly ambitious project anyway. Everything about this mayoralty by-election has taken on a surreal aura of "everything is broken".  John Tory (remember him, them) threw his hands up in despair after a resounding electoral victory on October 24, 2022, judging the exercise was pretty well useless since barely 29% of the qualified electorate bothered to vote. He had been on the job for more than eight years.
He seems to have made no impact. As of February 17, 2023, John Tory disappeared as the chief public official responsible for the city. Every candidate to replace him has outlined was how big a mess he left behind. Now, if anything, the debate about who should replace him was/is more and more about who can do the least damage to an already fragmenting civic reputation.
The press/media (we included) are talking less and less about what municipal responsibilities are, how resources are applied to their achievement and how to make the budgetary process reflect those objectives.
To expect conversations centred on obligations of the City and its affiliates to the tax-paying citizenry is now a mere "flight of fancy" for those paying to clear sewers, clean streets, repair roads, remove refuse, maintain utilities, sustain essential/emergency services such as firefighting, police, ambulatory care etc.
With all due respect to Media colleagues, last night's debate format did not seem structured to tease out those details or to "flesh them out". The debate was in effect only a "show": for how long could mere humans withstand the humiliating cacophony of their own vain disruptions. I felt badly for all of them.
The exercise was not reflective of the blossoming city I and so many other post WW II immigrants participated in growing. No one seemed to be given the opportunity to elaborate plans of "what" and "how".
It is not as if they did not have a clue or a sense of the resources at their disposal. Toronto has a budget of c. $16 Billion, a staff of 41,835 unionized employees, a further 19,484 in police, fire, paramedic and TTC services, plus an indeterminate number in City Agencies and Boards (the list is on the pic below: click on the image to enlarge it more).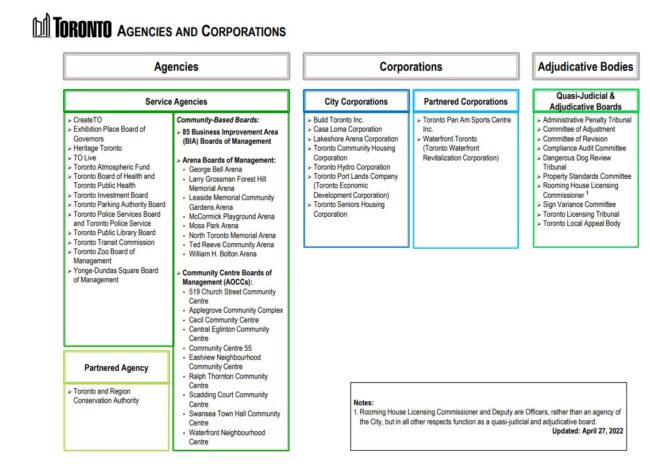 Maybe the governance model for a city that is some 630 square kilometers in size (roughly 21 km north-south and 43 km east-west) is just no longer workable. It encompasses 25 federal constituencies, more than six of the country's provinces. Yet, it seemed to this observer that, virtually every "issue" broached was specific to some area south of Bloor St.
"Something out there" is driving the agenda. It is not any of the 102 candidates or individual council members. If there is one issue which dominates discussions on surface transportation (people and goods) it is the negative impact of bike lanes. Earlier in the day, an announcement by City Council declared that there would be an immediate restart of work to expand a 30 km extension of the bike lane system. No cost benefit analysis; no deference to the candidates.
It may be too late now, but the Corriere Editorial team is suffering from a collective mea culpa for not organizing a debate addressing themes raised in this critique.
There are still ten days to election day. Still 102 candidates. It cannot be a matter of "pick a number".